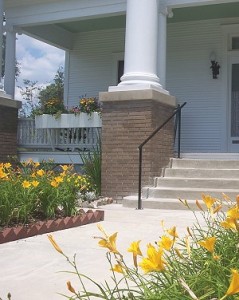 The Chambers House is listed as a local historical landmark. Built in 1907 by a local lumberman, the home was sold to the Chambers family in 1914. C. Homer and Edith Fuller Chambers moved into the home with their two young daughters, Ruth, 11 and Florence, 16 months old. The house was remodeled extensively in 1924, and never changed or modernized again. Members of this family occupied and cherished this home for the rest of their lives. Nearly 90 years of family possessions were found in the home upon Florence Chambers' death in 2004, many dating to the time of the 1924 remodel.
Most of the architectural and building details in the Chambers house are elements that would have been found in other houses built along Calder Avenue during a time in Beaumont when both timber and oil were highly successful industries bringing major growth to the area. Most of these houses are gone now, with the remaining few having had significant changes to their façades. The Chambers house stands as nearly a sole survivor to tell the tale, and is a fine example of what life was like for an upper-middle class family in a city rapidly changed through two successful industries centered around the natural resources of the area. Not only does the home still stand, but an enormous amount of personal items are contained within telling the story of daily life in a time long past. A truly unique tour awaits anyone wishing to see how an upper middle class family lived life during the 1920s through 1940s time period.
Location
2240 Calder Avenue
Beaumont, TX 77701
Phone: 409-832-4010
Parking behind the house on McFaddin between 6th and 7th Street.
Museum Hours:
Open Tuesday through Friday: Tours available at 10 am, 12pm, and 2 pm
Open Saturday: Tours available at 10am and 12pm
Reservations are required for groups of 7 or more and school tours. All tours are guided.
Admission
4 years and over:        $5.00
3 years and under:       Free
School Group Tours: $2.00 per student (advanced notice required)